Heat Absorbing Filters Schott KG1 KG2 K3 KG5
Schott is one of the leading manufacturers of optical filter glass. With KG range acting as heat absorbing filters. Schott KG3 and KG5 is the most commonly used due to it's excellent heat absorbing properties above 1000nm.
Kingsview Optical manufactures custom heat absorbing filters when standard filter windows aren't suitable. It is possible to produce filters in a wide range of shapes through the use of CNC profilers. It is also possible to machine filters creating beam stop wedges. From prototype batches to full production Kingsview has facility to offer both. Our specialty is offering rapid turnaround on filters. We can also offer a number of coating options depending on your requirement.
Schott KG Filter Datasheets
Standard Filter Tolerances
Size: 0.8mm to 100mm
Dimension Tolerance: ±0.1 mm
Parallelism: better than 10 arc seconds on twin lap
Thickness tolerance: ±0.05mm
Surface Quality (Scratch/Dig): 40/20
Coating: Broadband AR, Gold Mirror,
Finishing: Can offer thermal toughening on parts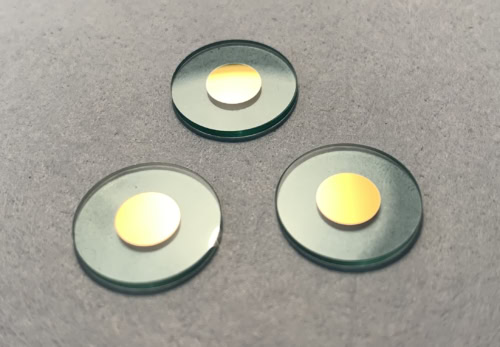 Custom Schott KG5 filter with gold mirror coating
Heat absorbing filter applications
For some high powered illumination systems controlling heat can be a problem. There a couple of ways around this first you can improve airflow through the system with ventilation holes and the introduction of a fan. The alternative is to use a heat absorbing material.
The heat absorbing material such as Schott KG3 or KG5 has the advantage of keeping your system sealed and a reduction in electronic complexity.
Heat absorbing filter coating options
Broadband Antireflective (BBAR) – Multilayer coating typical range of 425-650nm. Can be made wider and optimised to suit.

Wide angle broadband AR coating – When your filters need to work over extended angles of incidence

Mirror Coating – Can deposit a number of different metals on filters to reflect heat
Get in touch
We can offer a one stop manufacturing solution for all precision optical components including spherical lenses, optical prisms filters and precision windows. Also available is a custom lens design service enabling you to give us your optical requirement for us to create a tailor made solution.
Should you need a quote please get in touch with your drawings for a no obligation quotation and hopefully we will be able to help you with your project.
Schott KG Filter transmittance comparison