Risley prisms
Achromatic risley prism pairs are 2 or 3 optical wedges cemented together. What they are used in is panning applications or beam steering so when you rotate them in relation to each changes the angle of the image. This means in practice a camera could look around a room just by rotating the prism. The key correction needed is chromatic abberation so optical glass choice is particularly important. If you have an angle you need the beam to be steered by we can design and manufacture these to suit.
Kingsview Optical manufactures custom achromatic risley prisms when normal risley prisms won't do. From prototype batches to full production Kingsview has facility to offer both. Our specialty is offering rapid turnaround on prisms. We can also offer a number of coating options depending on your requirement.
Standard Prism Tolerances
Size: 0.8mm to 100mm
Diameter Tolerance: ±0.1 mm
Roof Angular Tolerance: better than 10 arc seconds
Angular Tolerance: ±3′
Surface Quality (Scratch/Dig): 40/20
Coating Broadband AR, Mirror, Mgf2 etc
Finishing Edge black painted, steps, bevels etc
Materials Schott, Ohara, CDGM, Fused Silica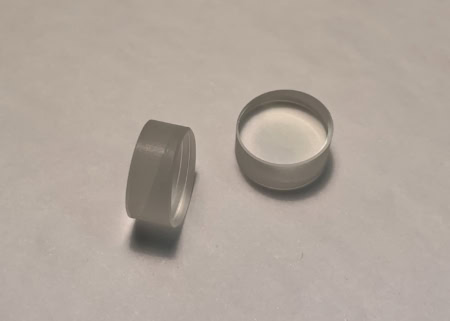 Prism Optical Coating Options
Mirror Coating – Can deposit a number of different metals or dielectrics depending on your requirement

Wide angle broadband AR coating – When your prisms need to work over extended angles of incidence

Broadband Antireflective (BBAR) – Multilayer coating typical range of 425-650nm. Can be made wider and optimised to suit.

Polarizing coating – Can deposit polarizing coating dependent on your angle of incidence and wavelength.

Single layer Magnesium Fluoride (MgF2) – Standard coating works over a large range of angles of incidence

Edge black painted – Option of ground surfaces black painted to control stray light and protect mirror coated surfaces
Get in touch
We can offer a one stop manufacturing solution for all precision optical components including spherical lenses, optical prisms filters and precision windows. Also available is a custom lens design service enabling you to give us your optical requirement for us to create a tailor made solution.
Should you need a quote please get in touch with your drawings for a no obligation quotation and hopefully we will be able to help you with your project.